WeChat
WeChat starts with just the communication and has expanded (is this the right word) to SNS, payment, UGC, and to connect service with people. Combined MAU of Weixin and WeChat was 1,057.7 million, an increase of 9.9% YoY. ( 2018 Q2 financial report).Translation: WeChat has strong quantity, quality, and cost of traffic.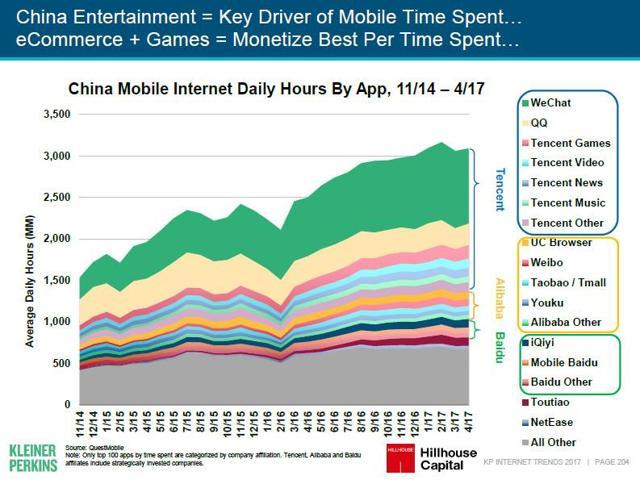 Good, could WeChat keep it?
Yes.
Communication and Social media are a market, which strongly correlates with the Matthew Effect, which means more than 90% percents of the market is occupied by the best player.
Communication and SNS have high migration costs for the individual, which grows with increasing using time and content.
The efficiency of the moat: Communication (barely extra input to keep the revenue, and monopolistic market) —-> Social media —> Internet Content Provider (high cost of Retention, homogeneous competition) (ex: iQIYI, Youku, and Tencent video)
How about another application overtaking the WeChat
Since the individual has less desire to change their habits on account of their age and due to high migration costs, Older users have a great loyalty to WeChat
For the next smart device (VR, AR or whatever), it is possible a new application could emerge, which could overtake WeChat on Communication. It is a war Tencent must face on. However, it is an unfair war. WeChat's viscosity of users makes it that WeChat will have more than several hundred million of its current users will continue using "WeChat" with the new and emerging smart devices. On the other hand, even if WeChat goes extinct, it still can transfer several hundred million users to the new app of Tencent through related accounts and data transfer (like QQ to WeChat in mobile).
The scale effect and Matthew effect apply to the Internet communication business. Thus, more people use it, it works better. It works better, more people use it. The competition of internet communication app is like to release a snowball from the top of snow slope. If your snowball is bigger and sticky than others initially, then your snowball has the best chance to be the biggest one.
The management team is a key for Tencent to make QQ and WeChat. To make perfection more perfect of the product is a critical feature for Tencent.
What about the traffic of WeChat
Quantitatively— based on 2017 Sep report, daily message sending time is 38b. Combined MAU of Weixin and WeChat were 1,057.7 million, an increase of 9.9% YoY. ( 2018 Q2 financial report). Need something like "this denotes an increase of 9.9 %)
Qualitatively—

WeChat is friendly for the all-around user. The information that users got from WeChat (moment, official account) are all based on their own social circle, knowledge level, and interesting field. Therefore, WeChat has great viscidity for various users.
Since Chinese commercial infrastructures are incomplete (payment, communication, etc are completed by the traditional organization in the developed nation), WeChat has first mover advantage and catches the opportunity of the popularization of smart devices. So, WeChat started as a communication app, then developed to social media, and expanded to a life service connector. The critical word of WeChat is CONVENIENCE. Individuals usually brought a wallet when they out of the home before. Now, more people just need a phone to meet most of the daily requirement, especially in China. In China, WeChat replaces the wallet. The social media and life service derive more traffic for WeChat (individual spending more time on WeChat) and those adding traffic improve the quality of whole traffic (improving ARPU and more data from each user).

The cost of traffic—

Ideally, without growth, WeChat can keep traffic without any additional input. However, that will not happen, but it shows the low-cost character of WeChat.
Currently, more than half of important programs of Tencent are derived from WeChat, which not only uses the traffic of Tencent to develop themselves but also guide new traffic for WeChat. Therefore, as an entity, the cost of traffic of WeChat can not calculate as an individual app.

The feature of traffic—

The traffic of WeChat is hard to monetize by internet advertising, since the character of the traffic. However, the social network and mini-programs advertising could be the potential for increasing revenue.
The quantity of traffic is not important for WeChat when compared with the quality of traffic. In the future, individuals may spend less time on WeChat, but the time they spend on WeChat more valuable.
The traffic of WeChat has a better viscosity of user than other SNS and communication apps
The picture displays the comparison between Facebook and Messenger and WeChat, which has the best viscosity of user in the world except for China.
The monetization of Traffic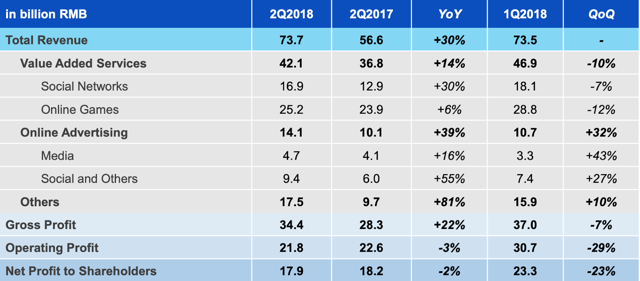 (Tencent 18 Q2)
For social and others advertising, the 55% year-on-year and 27% quarter-on-quarter increase in revenues benefited from factors including more advertising inventories in Weixin Moments, new advertising inventories in Mini Programs, higher impressions and eCPMs for our Mobile Ad Network, and enhanced traffic and monetization for our QQ KanDian news feed. The sequential increase in revenues was mainly due to the features above, as well as positive seasonality. (Tencent 18 Q2)
Social advertising

This will keep developing in next quarters with the high growth rate. Now, I can see one or more display ad. in most articles of official accounts and more display ad. In moment.
The increasing frequency of ad. will no affect user, since the ceiling of the capacity of the ad. is far away and the moment is half social acquaintances.
Display advertising is not an efficient way for WeChat to monetization, because the data is not used efficiently. However, Tencent believed the data of communicated is critical to be protected for users, so WeChat will not share the data with other groups of Tencent and will not be used to determine the user profile.

Media advertising

Media advertising is not working for WeChat.

Mini program advertising

From the 18 Q2 Tencent financial report, the mini program has more than 200 million DAUs: expanding the capabilities and usage of Mini Programs by integrating them with other digital tools, such as Weixin Pay, to provide customized solutions for a broader range of verticals. As the company leading Mini Programs innovation, we have built up a sizable developer ecosystem with a large and expanding base of external developers and software integrators, as well as a consumer base of over 200 million DAUs. We view Mini Programs as complementary to native mobile apps and believe Mini Programs will contribute materially to our user experience, to our enterprise relationships, and to the development of our payment, advertising and cloud businesses.
The mini program is directly connecting with business which is efficient.
I can not find any more information on DAUs of mini program.
The Maus of 17 Mar- 18 Mar displays that the growth of mini program may slow down which will not benefit mini program advertising. However, the monetization of mini program advertising is at an early stage, so even the user will not increase, the potential of a mini program for monetization still large.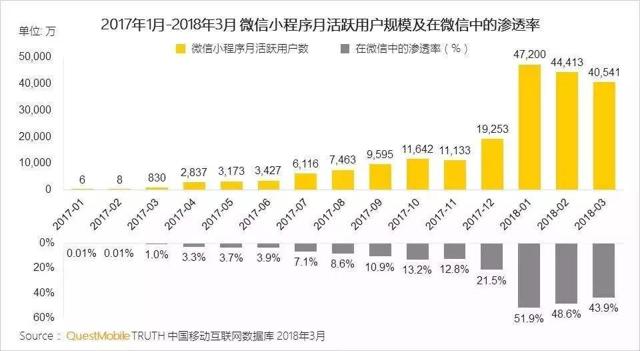 Investing

Others of Tencent in the financial report is composed of three parts: cloud, finance service and payment, and others. Financial service is derived from WeChat pay and WeChat pay is derived from the WeChat.
The traffic of Tencent draws the good companies to corporate (investing them) and the traffic accelerates the growth of those company. That is why Tencent has a great return on investing in 17 Q4.

Feed other business

Tencent's digital content and online game always have better popularizing rate with rapid spread rate due to the traffic of WeChat.
WeChat for Tencent
WeChat is the major factor to that makes Tencent become a Perpetual Growth company, which never happen in the fast-changing internet industry. (the minor is game)
In the market largely covered by the traffic of WeChat, Tencent has a great competitive advantage.
Conclusion
Based on all information that I know, the communication business is the heart of Tencent. When the communication business of WeChat is in jeopardy, the real danger of Tencent comes. Now WeChat still good. Therefore, Tencent still is a great company. Based on wind, the TTM of Tencent is 27.5, which is lowest TTM of Tencent after WeChat be produced. Based on Y-chart, the TTM of TCEHY is 26.5. Based on my estimate, the total revenue of FY18 will around 90b RMB to 100b RMB. I will give Tencent around 20-35 ttm for fair valuation. In next article I will talk about Tencent as a company specifically including the problem for Tencent and how I evaluate it.There are a lot of thoughts which I just display the conclusion. Since I need to prepare for the SAT, I may not have enough time to write analysis for every conclusion.
REALLY HAPPY TO HEAR DIFFERENT THOUGHTS.
Q2 2018http://www.tencent.com/en-us/articles/15000721534381804.pdf
17 Sep. report 微信2017数据报告:9月日均登陆9.02亿人,日均发送消息380亿次
Disclosure: I am/we are long 0700.